104 BEDS OF ASSISTED LIVING COMMUNITY BY MEMORIAL HERMANN
Vibra Healthcare, LLC ("Vibra"), Memorial Hermann Health System, and Medistar Corporation ("Medistar") announced today their collaboration on the development of VibraLife of Katy, a new VibraLife post-acute and residential care community coming to the Houston area. The new state-of-the-art facility will be located in the Parkwest Business Park off Interstate 10, adjacent to Memorial Hermann Katy Hospital. The facility will occupy 58,000 square feet and provide a total of 104 beds, including a 70-bed skilled nursing facility, an 18-bed assisted living center, and a 16-bed secured memory care unit.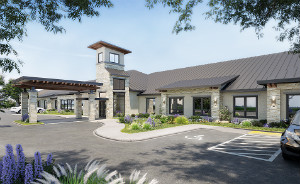 "We are delighted to be jointly pioneering a new post-acute care service model with Memorial Hermann," said Brad Hollinger, Chairman and Chief Executive Officer of Vibra Healthcare. "Memorial Hermann has an exceptional reputation for the delivery of outstanding, end-to-end patient care experiences. We are committed to delivering the same high quality, affordable care in this new state-of-the-art post-acute facility."
Affiliated with Memorial Hermann, the largest non-profit health system in Southeast Texas, and Medistar, a long-standing Houston-based developer and owner of healthcare real estate, VibraLife of Katy will be expertly equipped to serve the Houston community. The new, innovative facility will deliver a fully integrated post-acute care continuum and provide personalized services and care options that will help address the unmet needs of local healthcare providers and patients.
"This unique model provides a community-based care continuum that is conveniently housed under one roof, and will serve as the perfect bridge between an acute care stay and home for the patients we serve," said Carl Josehart, Senior Vice President and CEO of Post-Acute Care Services for Memorial Hermann. "VibraLife of Katy joins our already robust post-acute care network to help ensure this patient population is able to receive the right care, in the right place, at the right time, every time."
Designed and operated by Vibra, VibraLife of Katy will provide high quality care to patients following an injury or illness and will offer a full range of services – medical, rehabilitative, and social – to both patients and senior residents.
"VibraLife of Katy sets a new standard of excellence in post-acute care – a result of the innovative vision and uncompromising commitment to patient-centered care shared by Vibra and Memorial Hermann. For this important project, Medistar has worked diligently to align the real estate solution to enhance operational, clinical and financial efficiencies with an exceptional experience for patients, providers and guests," said Monzer Hourani, Chief Executive Officer of Medistar.A groundbreaking ceremony is scheduled for June 22, and construction is scheduled for completion in summer 2018.
http://www.memorialhermann.org/news/vibra-healthcare,-memorial-hermann—medistar-announce-development-of-new-post-acute-community–vibralife-of-katy/