80,000 CAR PER DAY ON TX-99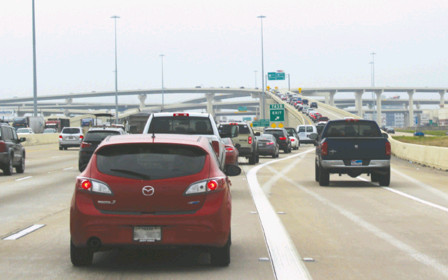 Drivers exit I-10 toward the Grand Parkway on-ramp in Katy in January. The opening of the Grand Parkway last year has brought more traffic and growth to the Katy area.
The Grand Parkway, the third and outermost loop around Houston, was envisioned more than 50 years ago. The idea behind the massive project was that the 200-mile roadway would help alleviate future highway congestion and spur growth and development as the Bayou City expanded.
The roadway still under construction has done all of that, but it also has caused new problems with traffic backups and has added to the growing pains it was supposed to help ease.
Nearly 80,000 vehicles travel daily on Segment E—from I-10 in Katy to Hwy. 290—of the Grand Parkway, and that part of the roadway is quickly approaching its maximum capacity, Grand Parkway officials said. Since opening to traffic in December 2013, drivers have seen ever-increasing congestion at the I-10 entrance and its exits to Katy's commercial districts south of I-10.
Traffic is expected to continue to increase as more businesses and residential zones open alongside the highway.
More traffic, more developments
Developers are already attempting to capitalize on traffic from the Grand Parkway with several major projects already underway, said Lance LaCour, president of the Katy Area Economic Development Council.
"The Grand Parkway is a catalyst for quality commercial and residential development projects and quality user projects for the Katy area," he said. "It is a major infrastructure enhancement that is positively affecting the quality of growth and economic development of the Katy area."
Projects under development in the Katy area include Verde Parc on the northeast corner of I-10 and the Grand Parkway. The site has more than 100 acres of mixed-use space, including 350,000 square feet of retail space and 1.65 million square feet of space for offices, medical facilities, hotels, restaurants and entertainment.
Some residential zones also are expected to be included in Verde Parc which is owned by Parkside Capital, LaCour said.
Another development along the Grand Parkway is Park West at the northwest corner of I-10 and Katy Fort Bend Road. Park West will include 362,000 square feet of retail and restaurants and 800,000 square feet of office space.
In addition, a large development is set for 100 acres on the northwest corner of the Grand Parkway and Clay Road as a potential site for a Chevron research and development facility, LaCour said.
The eight projects planned along the Grand Parkway in the Katy area include 6 million square feet of development with a $1.3 billion potential economic impact. The potential capital investment on all of the projects totals $650 million, with an expected 7,500 jobs to be added to the area once construction is complete, LaCour said.
Easing congestion
Officials are already looking at the possible expansion of Segment E, including adding lanes in both directions and new feeder roads even as construction of segments of the Grand Parkway continues across the Greater Houston area.
Congestion on the Grand Parkway's I-10 entrance, particularly during rush hour between 4–6 p.m., exists for three reasons, said David Gornet, executive director of the Grand Parkway Association.
"There are three challenges we have with that ramp," Gornet said. "The ramp is at capacity with 1,800 to 1,900 cars trying to use it. Then there are drivers who slow down as they go up that hill. Then there are people who cut lines.
"If people drove at a more consistent pace, around 40 mph up the ramp, there would be smoother operations and less congestion. Also, peoples' desire to cut the line might be mitigated," he said.
Similar congestion occurs south of I-10 in Fort Bend County, said Precinct 3 Commissioner Andy Meyers.
The commissioner said the southbound side of the Grand Parkway from Cinco Ranch Boulevard to Westheimer Parkway is often backed up as commuters meander into and out of LaCenterra at Cinco Ranch. Meyers also sees a major problem along the Grand Parkway from shopping centers near South Fry Road to FM 1093 at Westpark Tollway.
Fort Bend County officials have begun considering ways to alleviate traffic along the Grand Parkway, including construction of additional lanes and feeder roads, Gornet said.
Big project, small start
Alan Clark, director of transportation planning at the Houston-Galveston Area Council, said while the Grand Parkway has done a lot to improve mobility around Houston, plans for the project just started too small.
"It's been clear for some time that four main lanes [in each direction]on the Grand Parkway is the ultimate answer," Clark said.
"But the environmental study process for the Grand Parkway lasted more than a decade, and if we had revised the plans to include four lanes, we would have had to go back to the beginning before anything ever got started. It would have set everything back many, many years."
Clark said there could be room to expand the Grand Parkway to eight total lanes on Segment E, but there is not much room to do the same south of I-10 and along other segments of the highway.
"There are physical limitations to freeway expansion and what we can do," Clark said. "There's also issues with acquiring land and rights of way along roadways."
No easy fix
Meyers said there is much to be done in determining what is causing some of the traffic issues before work can begin to ease mobility woes along the highway. The first step is securing money for studies of the roadway, he said.
"We may have to add additional lanes, but that has to be a joint effort to gather funding from the Texas Department of Transportation and local governments," Meyers said. "We need their support to get this done this year.
We need an engineering study [and]then an environmental study to see what type of impact any possible work would cause."
https://communityimpact.com/houston/news/2015/01/27/grand-parkway-paves-the-way-for-growth-2/